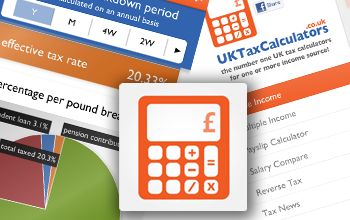 After two years in the app store and a number of important updates and new additions, our top 10 app has now been given a fresh lick of paint with a complete design overhaul.
The UKTaxCalculators.co.uk website already provides thousands of people with an accurate, at-a-glance, breakdown of their incomes. From PAYE to Self Employment income, through to multiple sources of income such as pensions, property, dividends and capital gains, everybody was covered.
The new update brings all the existing features into a more user friendly and fluid layout.
The menu system is now much cleaner and can be accessed at anytime by a quick swipe from the left side of your screen.
You can now use an interactive pie chart, which represents your gross pound of income, and see how much of the pound goes to each deduction before leaving you with a net slice to take home.
Any calculation can be emailed, in table form, from within the app.
A new feature to allow you to compare salaries has also been added.
The app has just gone live in the app store!
11 March 2013 19:56 - UPDATE:
A quick update!
Always check your app thoroughly before release or you will get caught out just like what has happened here.
The app was submitted after thorough testing, and after 6 days approved at midnight on a Friday (UK time).
I eagerly downloaded the update notification on my personal iPhone just the same as regular users would, saw the app load up and was proud of the finished product .... until CRASH!!!
The app would, after 5-20 seconds of use, ungracefully exit and crash to the home screen.
After some head scratching it turns out the inclusion of the Google Admob library was the offending code, no error on Google's part though.
When you include a bundled library such as the Admob one, you must set linker flags in your compiler (Xcode) to create objective C objects from the contents of the bundle. You do this by setting '-ObjC' under 'other linker flags' for your target.
The mistake causing the crashes was that this had been set for both Debug and Release builds, however omitted from the Distribution build (the version which goes in the app store!).
After a hasty removal of the app from the app store to stop any more updates or new download occurring (7 bad reviews in the 10 minutes the broken app was 'live'), I patched the problem and re-submitted for review, this time requesting an expedited review process to hurry things up.
Now, 2 days later, and the start of a new working week, Apple has very quickly put the app into review, so hopefully should have an update available in a few hours (.. barring another mishap!)